Trilithic, Inc. designs, manufactures, and commercializes test equipment for the telecommunications industry worldwide.
The company offers cable TV signal level meters, leakage detection devices, satellite TV meters, head end monitoring/maintenance analyzers, field analyzers, wireless network testers, Ethernet/IP and wireless testers, server packages, and integrated hardware.
These services are backed up with cloud-based software solutions to manage these products and analyze the data they collect delivering home automation test tools for field installers, technicians, designers, and contractors.
Trilithic: Now a part of VIAVI Solutions

Review our VIAVI Solutions page and their related products.
Trilithic was recently acquired by VIAVI Solutions, adding Trilithic's expertise in electronic test and measurement equipment to bring greater dimension to the VIAVI solutions for Unified Test and Measurement to enable standardization of installation and maintenance needs.
The combined product offerings of VIAVI and Trilithic will allow operators to select a meter optimized for specific applications while providing:
• Common meter configurations deployed enterprise-wide
• Centralized collection and storage of test data from all instruments
• Compare tech performance enterprise-wide regardless of meter in use
• Reduced overhead – all instruments managed in a single system.
Plant issues that create churn can be detected and resolved faster by integrating Trilithic leakage data into XPERTrak. This integration also enables remediation of leaks to be prioritized based on customer impact, with enhanced correlation of subscriber impact related to specific plant issues.
StrataSync: Empowering Your Assets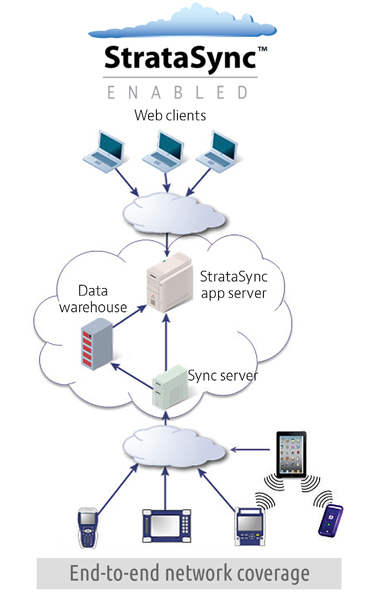 StrataSync helps service providers increase operational efficiency by empowering their assets to tackle the major operational challenges of network testing in an efficient and effective manner. StrataSync provides automated asset management, configuration management, and test-data management of Viavi instruments as well as asset tracking of non-Viavi instruments.
StrataSync automates many of the current manual—or impossible— tasks associated with attempting to collect test data results across a fleet of field instruments. With StrataSync, all test results upload automatically to a centralized repository, allowing easy access by supervisors to store, view, print, and export test data files.
Service providers have unprecedented levels of visibility into their assets and test data with new levels of automation, control, and compliance auditability—increasing the operational efficiency of network testing and driving down associated operational costs.
Video: Introduction to StrataSync™
A comprehensive demonstration of the function and capabilities StrataSync provides system providers to increase operational efficiency with instrument standardization.

180 DSP
Signal Level Meter
vendor P/N: 180DSP
Basic signal level meter specifically tailored for installation and troubleshooting of RF signals featuring fast measurements for all the tests an installer needs to measure both Analog and Digital signals and ensure the highest quality installation.
TELONIX stands behind every product sold, with unmatched technical support.