EM9600 Tone Launch Connector for Fiber Optic Cables
Waterproof Connector for Direct Contact with the Corrugated Metallic Shield
Direct connection is the best and most accurate method of applying signal to a target cable when locating in the field. Connecting the transmitter directly to the target cable isolates the signal and improves signal flow along the path. This is especially important in congested situations where multiple services and utilities are buried. Use of the EM 9600-LC connector will discourage the harmful and potentially dangerous practice of skinning/removing a section of the cable jacket to expose the shield.
The two-piece engineering-grade thermoplastic body is crimped onto the cable with standard channel-lock pliers.
The connector bottoms out to prevent crushing of the fiber.
Matching guides on the molded upper and lower body parts position the cable over the center of a pair of tin-plated brass teeth.
A click sound assures completion of the mating procedure.
Color-coded inserts provide a simple way for the installer to select the correct size connector and to achieve the correct alignment … every time.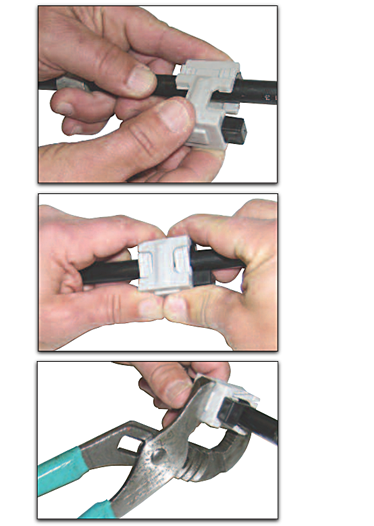 TELONIX stands behind every product sold, with unmatched technical support.