The industry standard, most comprehensive in enterprise certification
Data consumption has exploded in the past few years and enterprise network owners are scrambling to meet the demanding requirements of 40 G and beyond to serve their buildings, data centers, and campuses.
New technologies are driving change in every aspect of enterprise networks — new industry standards, new topologies, new types of connectivity, new test methods, and certainly new challenges for designers and technicians. Everything in the enterprise is new.
The VIAVI Solutions Certifier is the world's most comprehensive solution for enterprise network certification. Available in 2 models, the Certifier40G can test both copper and fiber cabling types to ensure network performance for all current and future cabling standards. The Certifier10G is the cost-effective solution to test and certify copper up to Category 6A, without support for fiber or Class FA
The Certifier40G is not only the most advanced solution available, it is also the fastest and most complete. Whether certifying copper or fiber, users will get the job done right and on time…the first time!
• The industry's fastest CAT6A solution can certify each cable within 9 seconds, saving users 30 minutes each time they test 150 CAT6A cables*
• Tier 1 certification of multimode and single-mode fiber in less than 6 seconds
• Automate pass/fail end-face analysis for all fiber types
• Gain complete test visibility at both local and remote ends
• Pre-configured with all leading manufacturer's cabling specifications
• Achieve complete network certification with one device
• Optimize productivity with the industry's fastest test workflow
• Obtain comprehensive results for the latest TIA-568 and ISO 11801 requirements
• View test set up and results data and edit labels at both local and remote ends
• Complete TIA 568/ISO 11801 copper and fiber certification
• TIA-942-A data center certification
• Objective pass/fail testing for IEC 61300-3-35 fiber end-face requirements
• Permanent link and channel adapters for certifying to TIA category 5e/6/6A and ISO class D/E/EA/F/FA
• Multimode (850/1300 nm) and single-mode (1310/1550 nm) adapters for Tier 1 fiber certification (loss/length/polarity)
• Industry-leading VIAVI P5000i digital fiber end-face inspection probe support
• Integrated, standards-based certification labeling and reporting
Certifier Category-8-Ready Certification
Copper cabling systems are rapidly evolving to support new enterprise. With recent released standards* from IEEE, TIA, and IEEE, the need to test cabling systems to beyond 2000 MHz is on the horizon. With the ability to already test up to 2,500 MHz, the VIAVI Certifier40G is ready for these new standards. The VIAVI Certifier40G has been ETL verified to ANSI/TIA-1152 Level IIIe, IEC 61935-1 Levels IIIe and IV, and Level V draft accuracy specifications.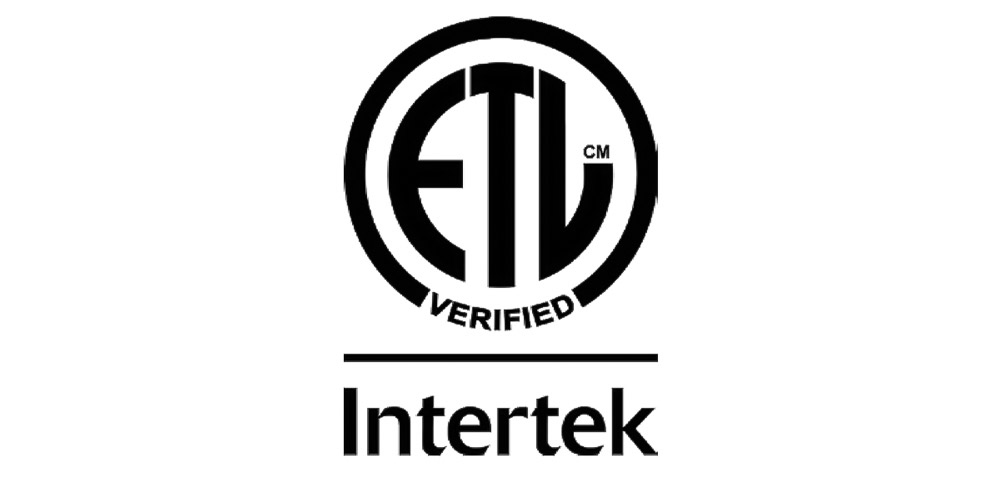 The current IEC 61935-1 proposed Level V draft accuracy standard addressed the needs up to Class FA (1000 MHz). The VIAVI Certifier40G is accurate beyond 2000 MHz and, therefore, will support the latest standards being developed to protect your investment.
* Current released Cat 8 standards include:
ANSI/TIA-568-C.2-1
ANSI/TIA-1152-A
ISO/IEC 11801-99-1
IEC 61935-1
Inspect Fiber End Faces with Pass/Fail Analysis
Dirty connectors are the number one cause for troubleshooting in optical networks. Microscopic dirt particles create enough signal loss and back reflection to cause significant network errors and downtime. Proactively inspecting fiber end faces is critical for testing and certifying a fiber network.
The Telecommunications Industry Association (TIA) recently revised TIA-568 to establish quality and cleanliness acceptance criteria for fiber connector end faces when testing optical connections. Whether using TIA-568 or customer-specific requirements, users can easily inspect and certify fiber connector end faces with automated pass/fail analysis at the push of a button on the Certifier40G to get the job done quickly and correctly.
Paired with VIAVI P5000i digital fiber end-face inspection probe
• Prove compliance to the new TIA-568 end-face inspection requirements
• Get fast results at the push of a button
• Eliminate subjectivity with automated pass/fail analysis
• Ensure your network is optimized for a lifetime of performance
• Prevent costly network downtime and time-consuming troubleshooting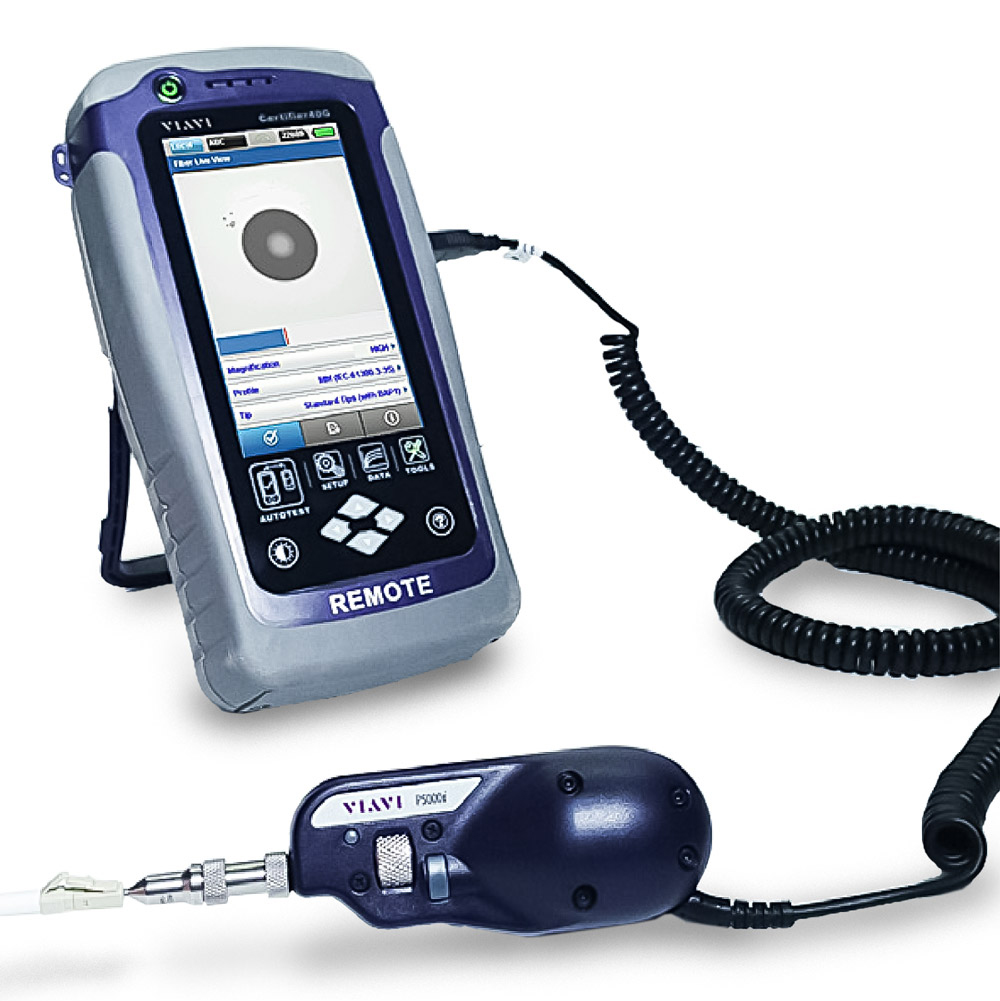 The Complete Tier 1 Test Solution
Voice and video, cloud computing, and virtualization are driving an increasing demand for fiber-cabling networks. To guarantee that these new fiber networks can handle higher data rates, they must be certified based on the TIA-568 and ISO 11801 industry standards, which specify the insertion loss and length requirements for each type of fiber-optic cabling.
The VIAVI Certifier40G fiber test adapters quickly and accurately certify any fiber-cabling installation. These adapters complement an existing, comprehensive copper-cabling feature set, letting structured-cabling installers and professionals perform all their fiber and copper certifications with the same, easy-to-use tool.
Two complete units minimize time initiating, naming, and saving results
• Perform standards-compliant loss measurements of multimode fiber cabling with encircled flux (EF) multimode test heads; EF launch conditions are required by TIA and IEC standards and help ensure consistency and accuracy of loss results
• Two complete user interface touch screens show full fiber results at both ends giving technicians complete results for all fibers and all wavelengths—not just a pass/fail light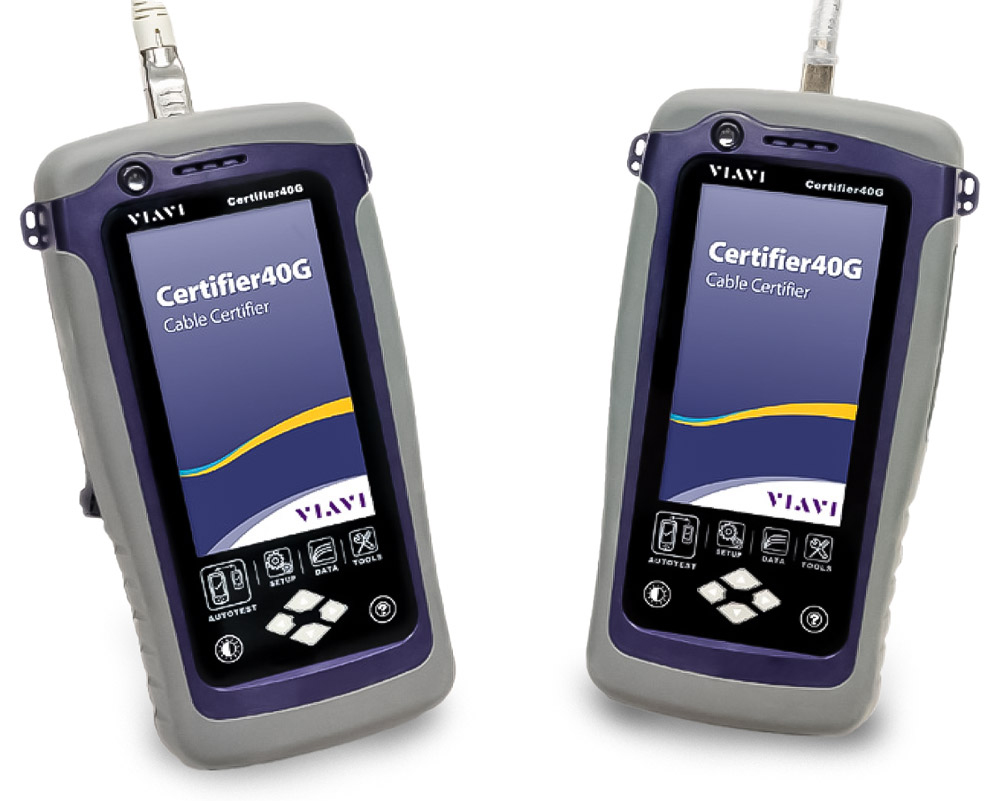 Comprehensive, Easy-to-Use Test Data Management
Easily manage all of your test data with J-Reporter. This PC-based software is included with all Certifier models so that network technicians and managers can keep organized records of test data and generate reports. In addition to managing data from the Certifier, J-Reporter also supports other VIAVI test solutions including the OLTS-85, MPOLx, and OTDR traces from the VIAVI T-BERD®/MTS-2000 instrument.
For more fiber testing and certification capabilities, combine the Certifier40G with one of the market-leading VIAVI fiber testers, such as the T-BERD/MTS-2000 , OLTS-85P , and MPOLx.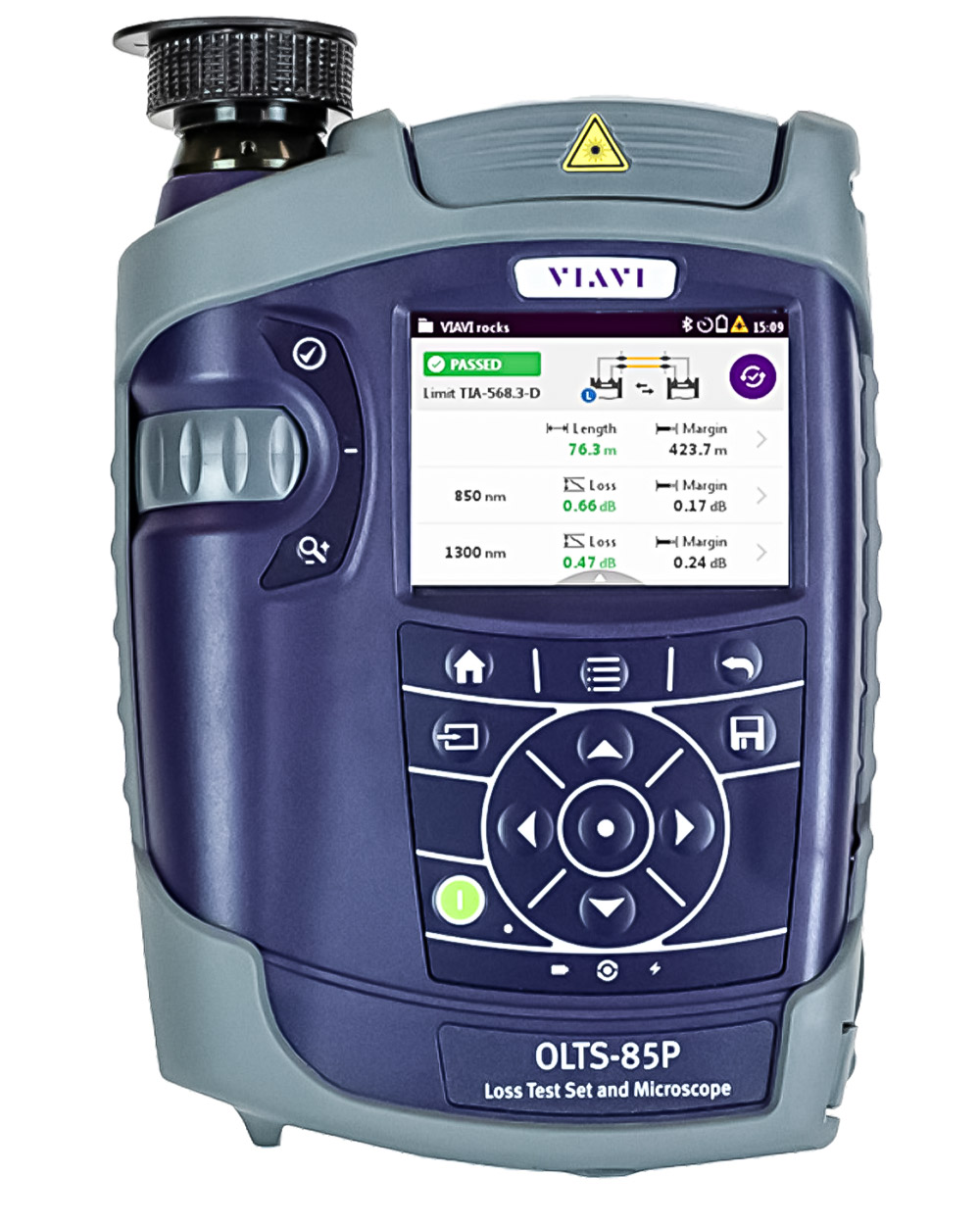 Integrates with CERTiFi cloud-based workflow management
CERTiFi is a cloud-based solution for teams who design, build, test, and certify the structured cabling in enterprise networks. With CERTiFi, team members establish alignment at every stage of their project — from creating design requirements and assigning tasks, to performing tests and analyzing project metrics in real time. Manage your projects with confidence and equip your team to succeed with CERTiFi.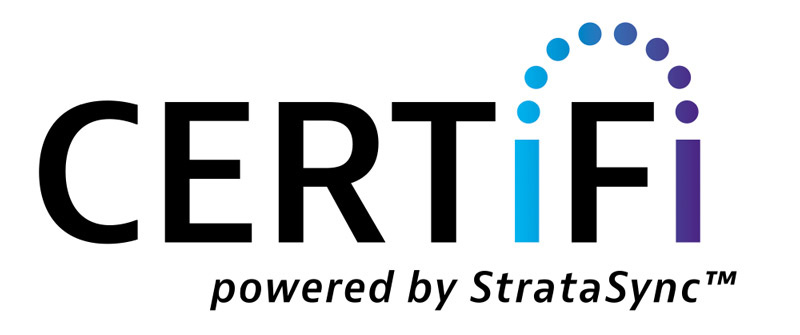 • Manage your projects with confidence at every stage
• Align your team and project specs in one place
• Communicate job requirements clearly and in real-time
• Track project status and analyze results from anywhere
• Assign tasks directly to team members
• Deploy tasks directly to instruments with the CERTiFi Mobile app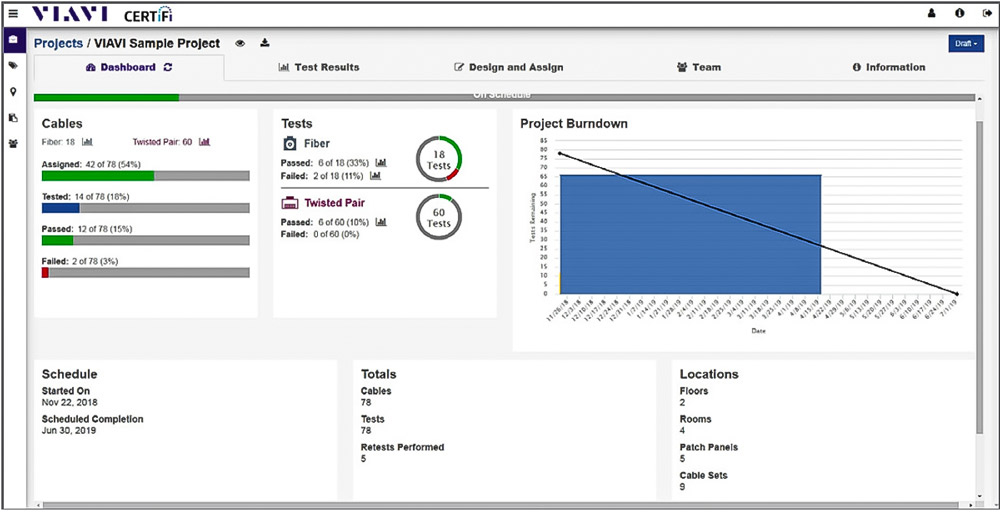 TELONIX stands behind every product sold, with unmatched technical support.