Optical Handhelds for Essential Fiber Testing
The most comprehensive range of optical handhelds for basic fiber test for install, maintenance and troubleshooting applications
The range of VIAVI SmartClass and SmartPocket handhelds provide everything necessary for installation and maintenance of singlemode and multimode fiber optic networks in CATV, Telco/Access and Wireless/CRAN and 5G environments.
VIAVI Optical products are cost effective solutions from basic optic light sources, attenuators and optical power meters to selective PON power meters with enhanced GPON data analysis. Including dedicated solutions for PON commissioning and customer installations for Fiber to the Home (FTTH) environments. As well as fully automated fiber test sets for structured cabling, enterprise and datacenter Tier 1 fiber test and certification. Plus, standalone and integrated fiberscope for fiber optic inspection.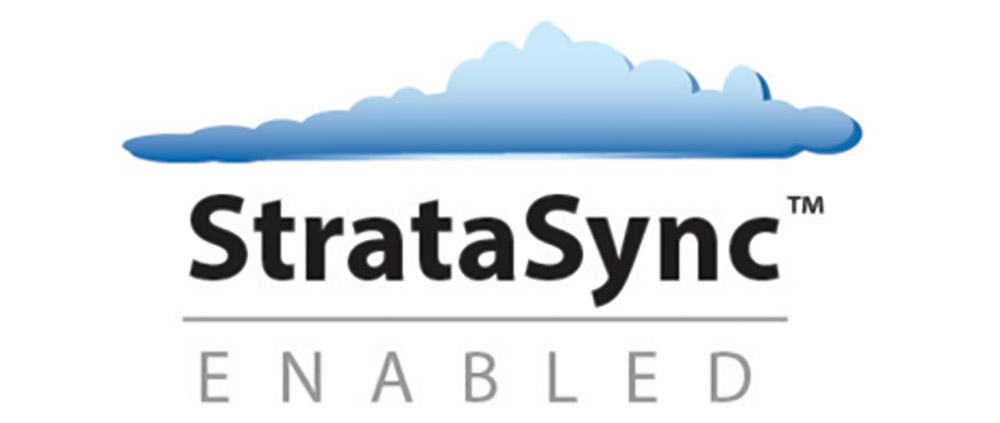 StrataSync helps service providers increase operational efficiency by empowering their assets to tackle the major operational challenges of network testing in an efficient and effective manner. StrataSync provides automated asset management, configuration management, and test-data management of Viavi instruments as well as asset tracking of non-Viavi instruments.
Best Practices for Fiber Testers / Inspect Before You Connect
Contaminated connectors are the #1 cause for troubleshooting in fiber optic networks.
While standards bodies have established acceptance criteria for the quality and cleanliness of fiber connector end faces, technicians still face challenges with implementing these practices.
Without the right fiber testing tools, maintaining these standards or specifications is difficult and time consuming.
VIAVI's essential fiber testing tools lead the industry in helping technicians ensure best practices for handling fiber in every situation, from certifying new fiber installations to troubleshooting active fiber networks.
Essential Optical Handheld Testing Solutions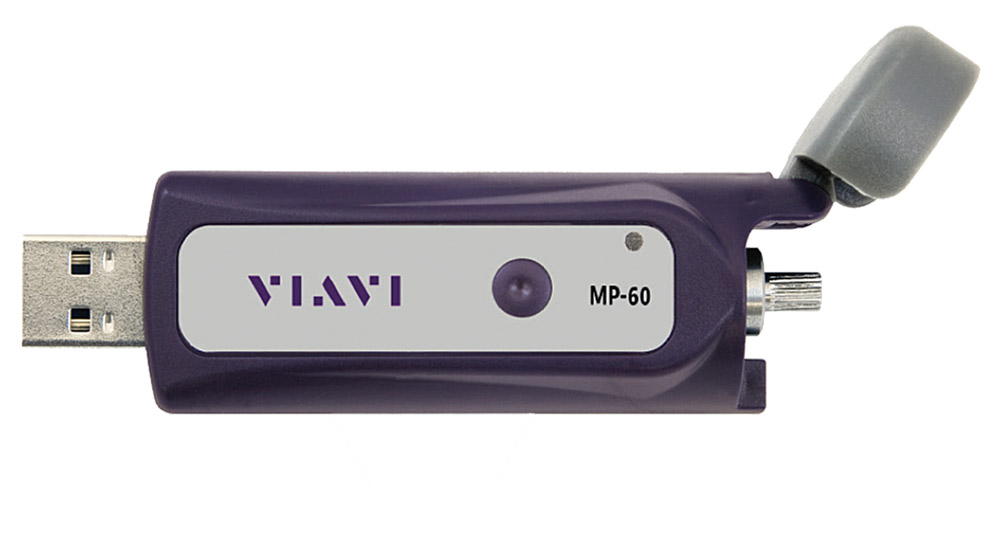 MP-60/-80
Miniature USB 2.0 Power Meters
Miniature device that measures optical power via a USB 2.0 connection to a PC/laptop/smart device. This unique device makes digital processing of optical power measurements possible and integrates directly with the VIAVI FiberChekPRO and FiberChekMOBILE software.
Its size, functionality, and ease-of-use makes it an extremely useful and practical tool when testing optical power levels. The simple, straightforward, and intuitive software interface offers a well-organized digital solution to both fiber inspection and test procedures.
SmartPocket OLS-34/-35/-36
Optical Light Sources
A family of pocket-sized and low-cost optical light sources for the installation and maintenance of singlemode and multimode fiber optic networks.
OLS-34, OLS-35, and OLS-36 offer up to four wavelengths laser diode stabilized light source with an excellent price/performance ratio. The OLS-3x are the ideal complementary tools to the OLP-3x to measure the insertion loss and test the continuity in multimode datacom and local area networks as well as in singlemode telecommunication and CATV-multimedia networks.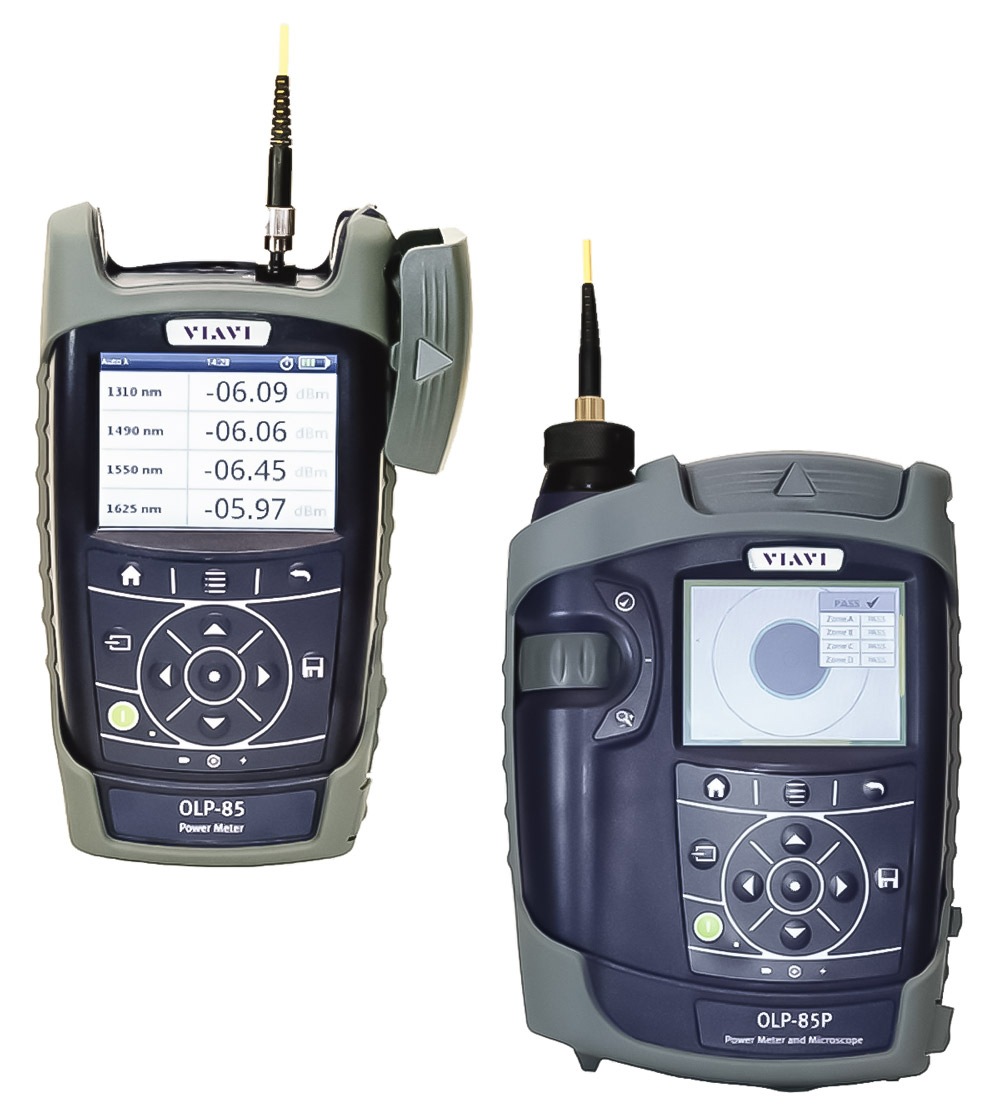 SmartClass Fiber OLP-85 and -85P
Inspection-Ready Optical Power Meters
The SmartClass Fiber OLP-85 and -85P combine pass/fail fiber inspection and optical power measurement (OPM) into one solution. With a 100 dB dynamic range, the OLP-85 and -85P handheld optical power meters are professional, versatile, and compact instruments perfect for any fiber-optic network power or loss test applications.
Their high accuracy over the entire range means that the OLP-85 and -85P perfectly fit applications where low power or very high power needs to be measured.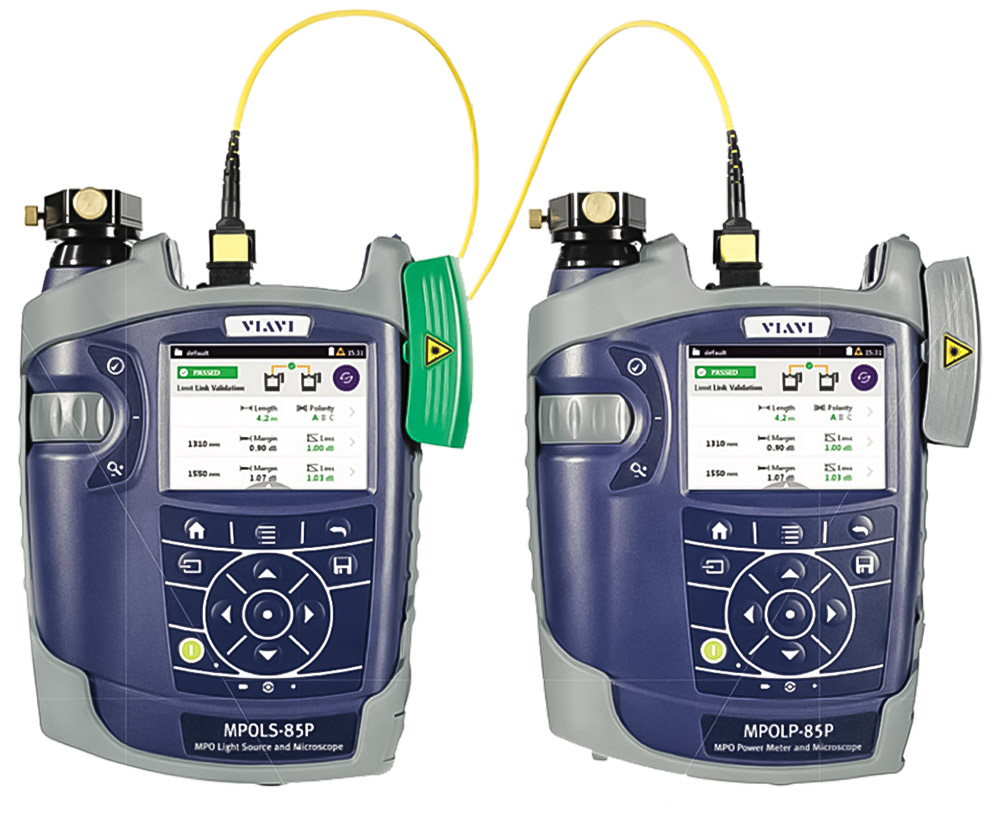 SmartClass Fiber MPOLx – MPO
Optical Loss Test Sets
The industry's first dedicated optical loss test set that can perform all the test requirements for Tier 1 (Basic) certification using MPO fiber connectivity.
The MPOLx provides a source and power meter that integrate essential MPO test capabilities together to ensure a fast and reliable work!ow when testing and certifying network links with native MPO connectivity.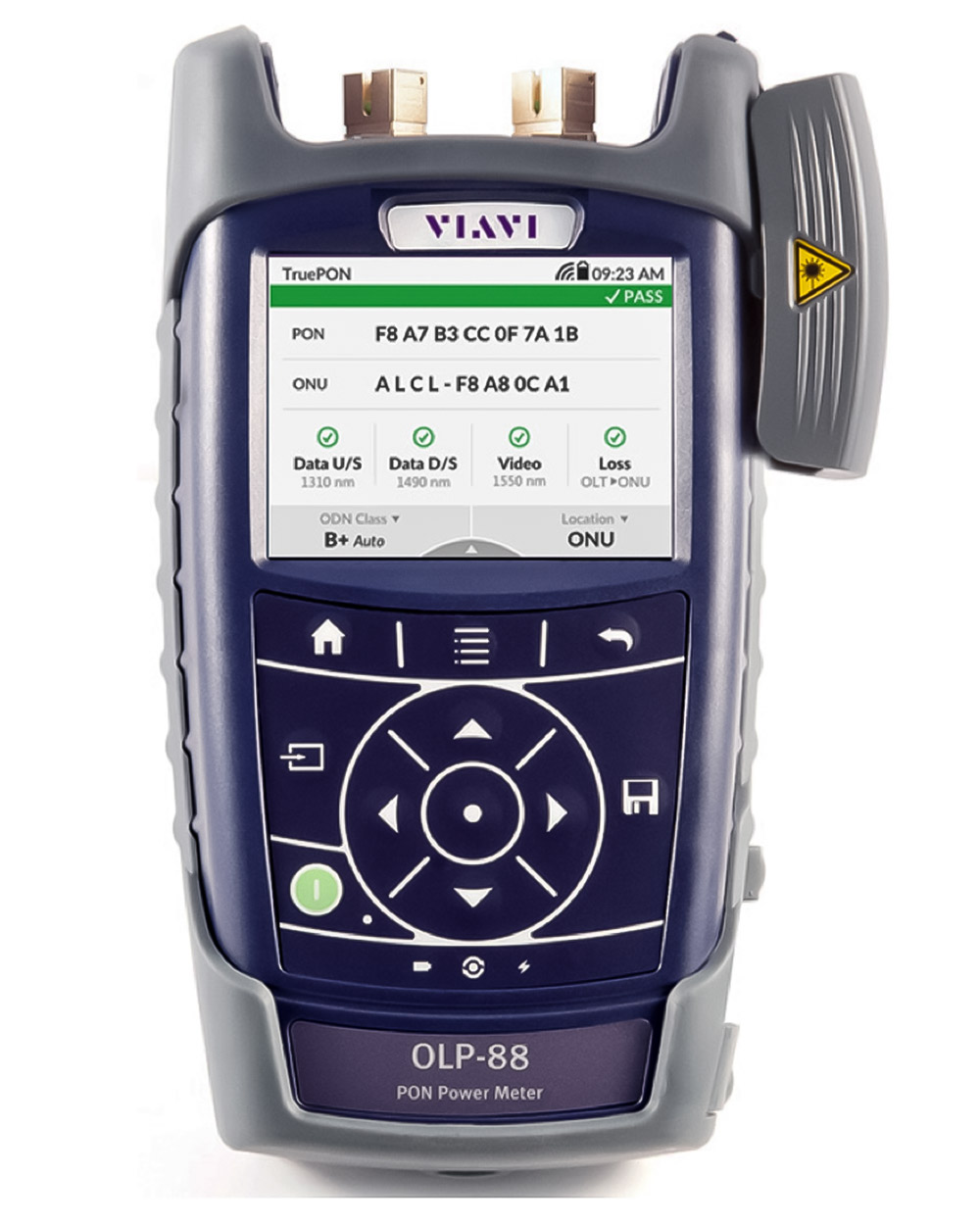 SmartClass Fiber OLP-88
TruePON Tester
An innovative tool using GPON data analysis technology. It is the ideal test unit for field technicians dealing with GPON network service activation and for support teams in charge of resolving service complaints and identifying the sources of issues.
The first instrument in the market with test capabilities like OLT and ONU identification, ONT activation process verification, automatic PON power levels certification, in-service insertion loss test and Alien/Rogue ONUs detection.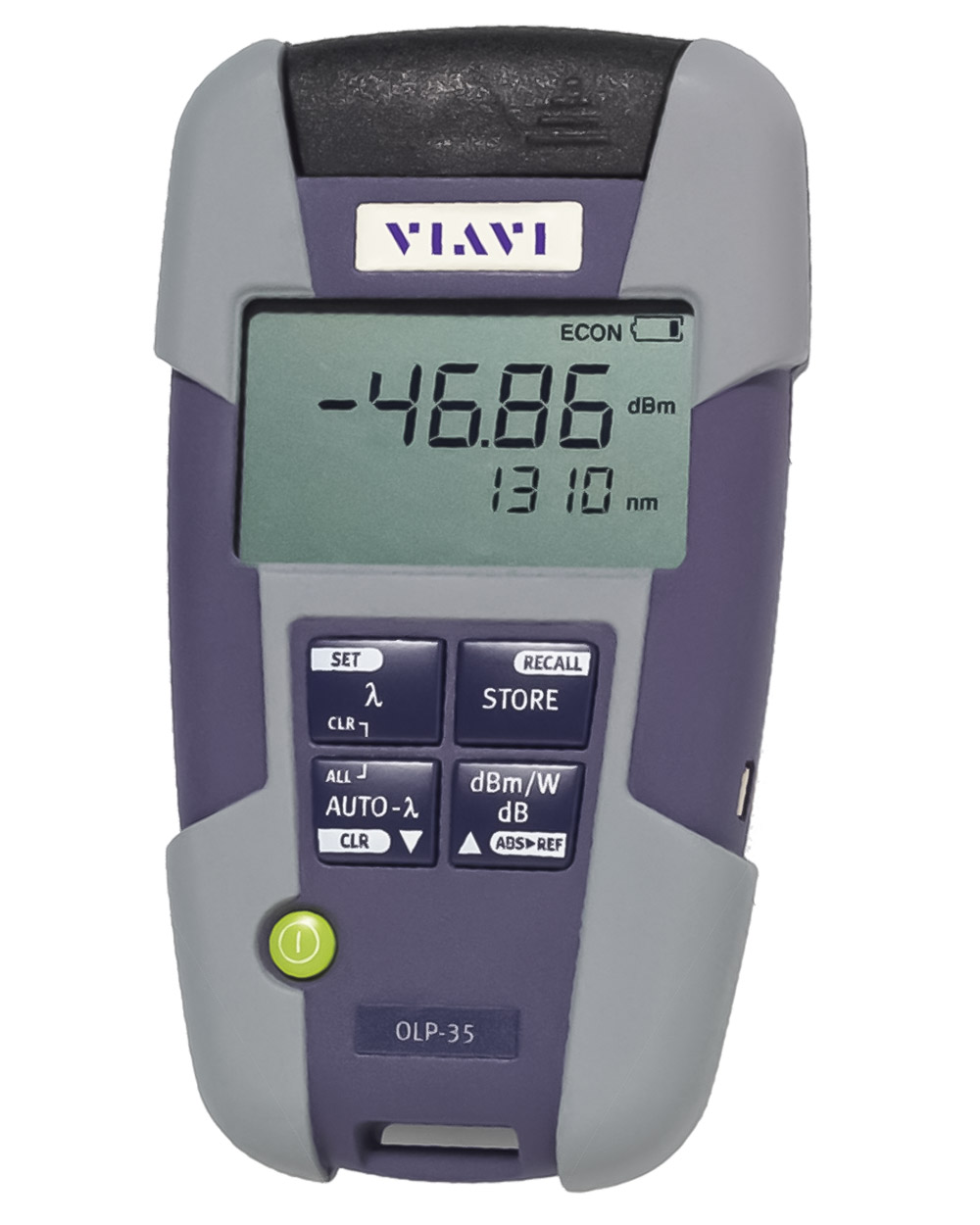 SmartPocket OLP-34/-35/-38
Optical Power Meters
A family of pocket-sized and low-cost optical power meters for the installation and maintenance of singlemode and multimode fiber optic networks.
Offers an excellent price/performance ratio in a rugged and pocket-sized housing for straightforward use in the field. Mainly used to measure optical power level (dBm) in premises, telco, or CATV fiber optic networks, they also can be combined with LED (OLS-34/OLS-36) or laser light sources (OLS-35/OLS-36) for insertion loss measurement.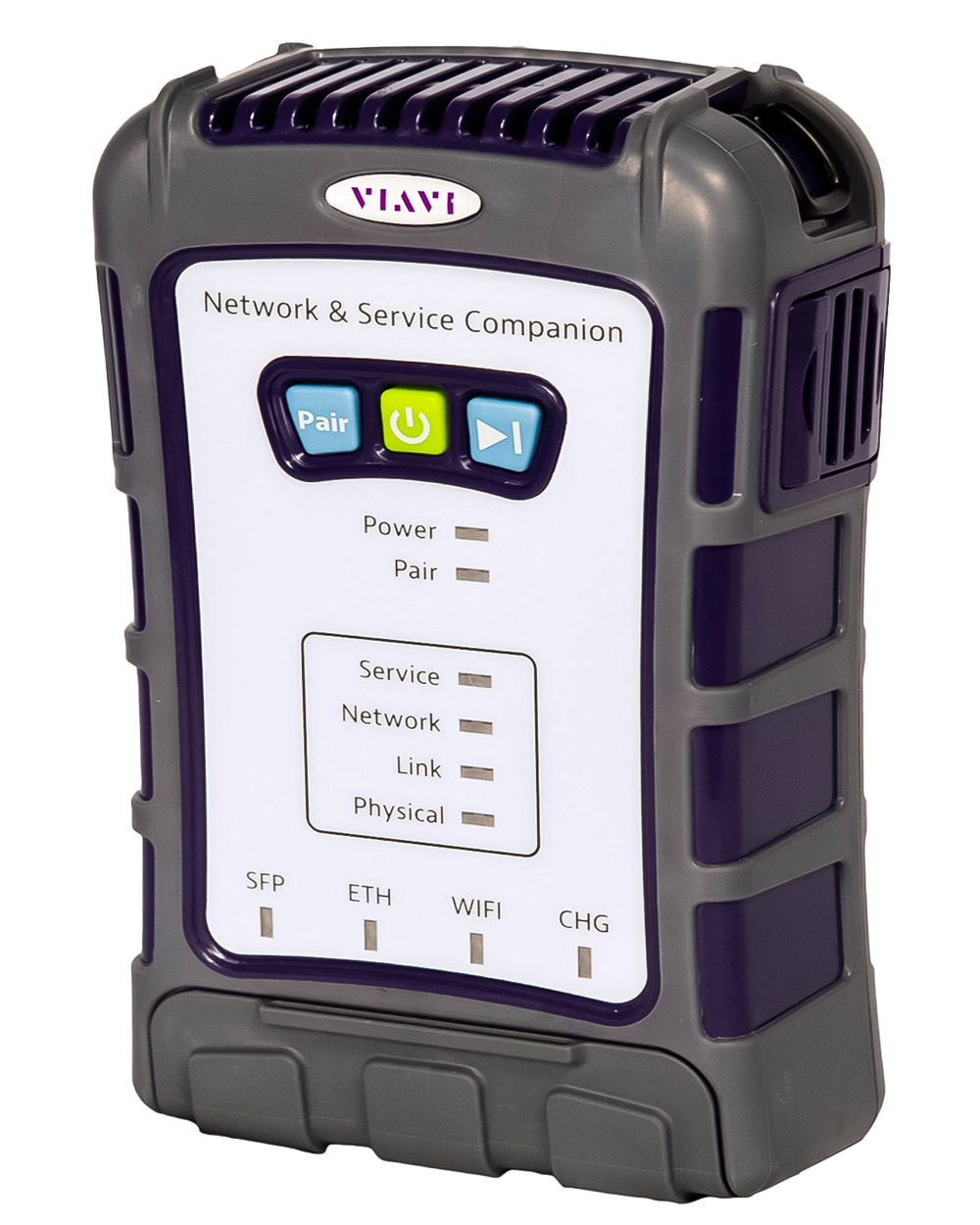 NSC-100
Network and Service Companion
A new category of compact hand-held device combining multiple test interfaces (PON, Ethernet, WiFi) with the VIAVI 'OneCheck' application concept to make network validation and high speed (Gigabit and higher) service testing a simple and speedy process for all frontline techs and installers, be they beginner or expert.
A single high-performance tool that allows techs to operate in multiple network environments and applications allowing network delivery and service performance to be easily documented with clear and fast demarcation/segmentation of any issues in under a minute.
TELONIX stands behind every product sold, with unmatched technical support.