Seikoh Giken Company introduces the next generation of FerruleMate fiber cleaners – FerruleMate 2.0. Utilizing our patented rotating cleaning tip and unique Slide-Guide cleaning cloth, the new FerruleMate 2.0 offers the widest cleaning area on the market today.
A key feature of the FerruleMate 2.0 is its unique Push-Click operation. The contoured tip fits easily into the feed-through adapter and the self-actuated cleaning tape feed provides an audible "Click" confirming that the cleaning is successful. Connector cleaning performance is guaranteed as the FerruleMate 2.0 cleans beyond the critical fiber core and deep into the contact area while still seated in a bulkhead adapter.
The FerruleMate 2.0 is a remarkable evolution which combines durability, reliability, simplicity, and low cleaning cost.
• Inside Plant distribution panels and assemblies.
• Outdoor pedestal bulkheads for FTTx installations.
• Server cards, optical switches, routers and OADMs female modules.
• Cable assembly production enivronments.
• Benchtop Testing and Final Inspection pack-out stations.
• Patented 360 degree Rotational Tip provides extra wide cleaning.
• Easy one-push operation with extendable/retractable contoured nozzle.
• Highly effective cleaning via non-woven micro fiber.
• Lint free and zero static.
• 800+ cleanings per unit = Ultra low cost per connector cleaned.
• Static dissipative plastic resin body and tape feed is safe for ESD work.
• FC/SC/ST Cleaner Pen, Universal 2.5mm O.D. Ferrule Application.
• LC/MU Cleaner Pen, Universal 1.25mm O.D. Ferrule Application.
• MPO Multi-Fiber Plastic Ferrule Application exceeds industry requirements.
• Compliant with EU/95/2002/EC Directive (RoHS).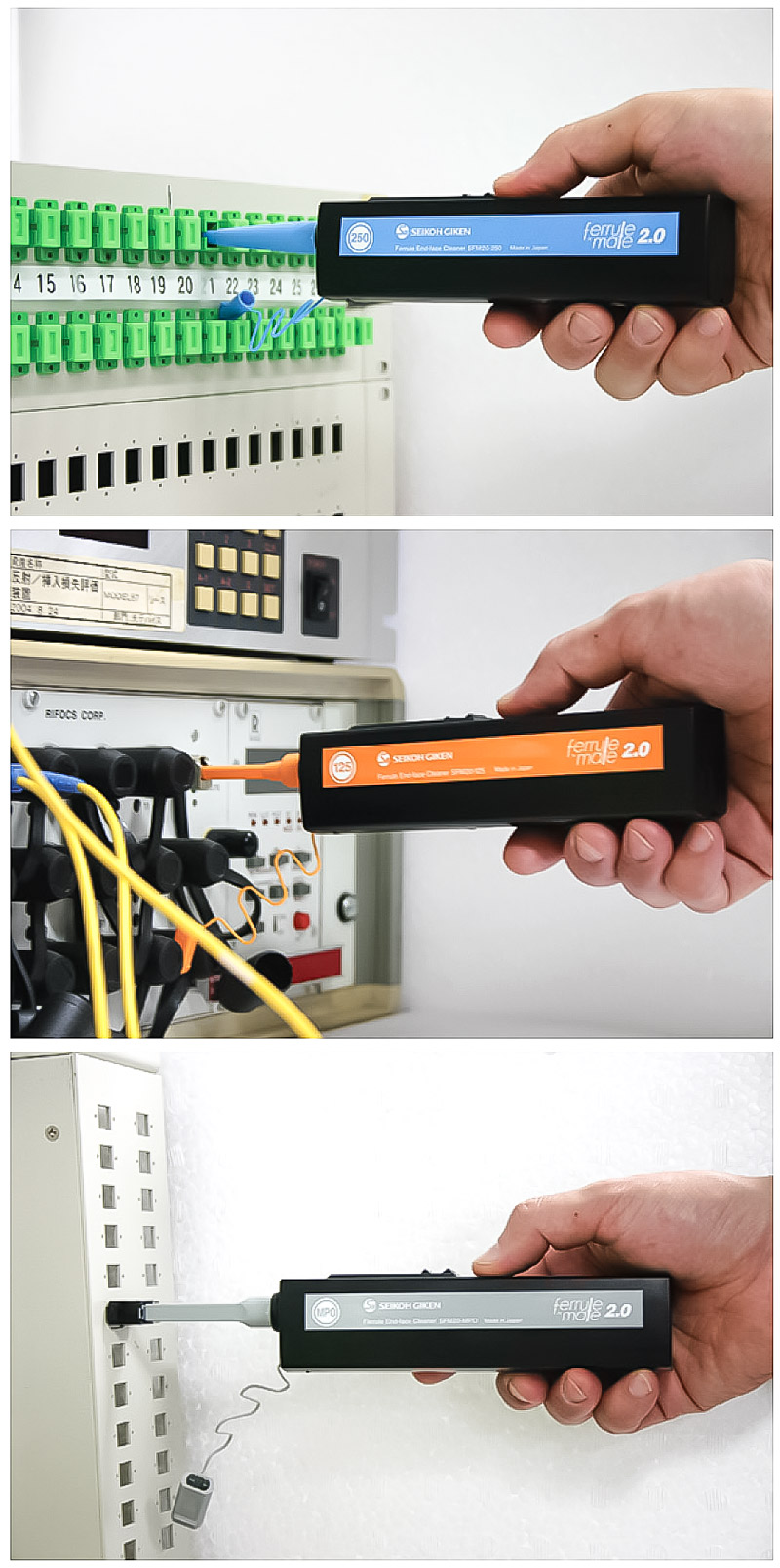 Patented Cleaning Technology
1. Slide-Guide™ non-slip micro tape feeder guarantees high reliability
2. Dual Rotational tip provides superior ferrule endface cleaning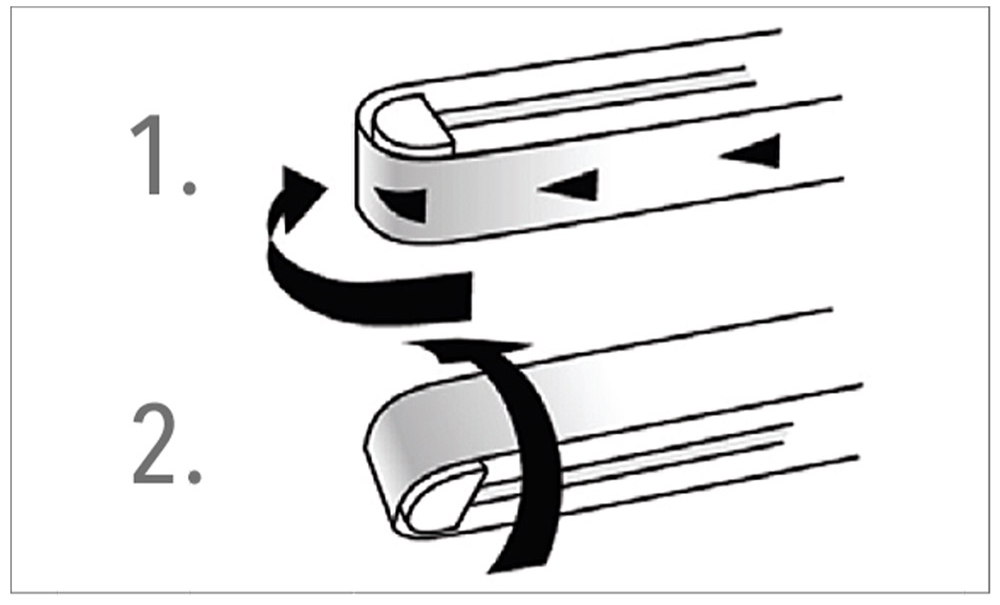 Cleaning Criteria / Results
The FerruleMate™ 2.0 optical interconnect cleaner meets or exceeds all current and emerging standards* for fiber cleanliness in high power laser applications.
*Telcordia GR-2923-CORE, iNEMI, IEC 61300-3-35, Cisco EDCS 7027180
An Ideal Connector will not have any contamination or scratches in the core, cladding or ferrule contact area surrounding the cladding.
Zone 1a- Contamination is strictly prohibited from Fiber Core Area defined as 0um to 25um.
Zone 1b- Contamination larger than 3um prohibited from Cladding Area defined as 25um to 120um.
Zone 2 – Contamination larger than 10um prohibited from Contact Area defined as 130um to 250um.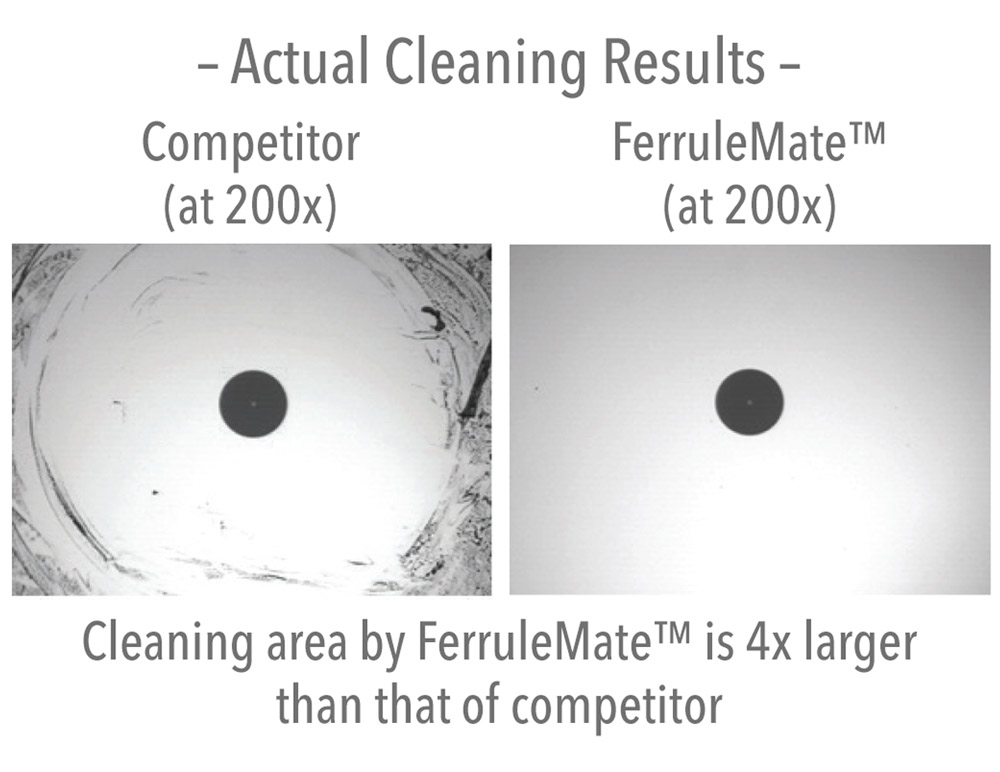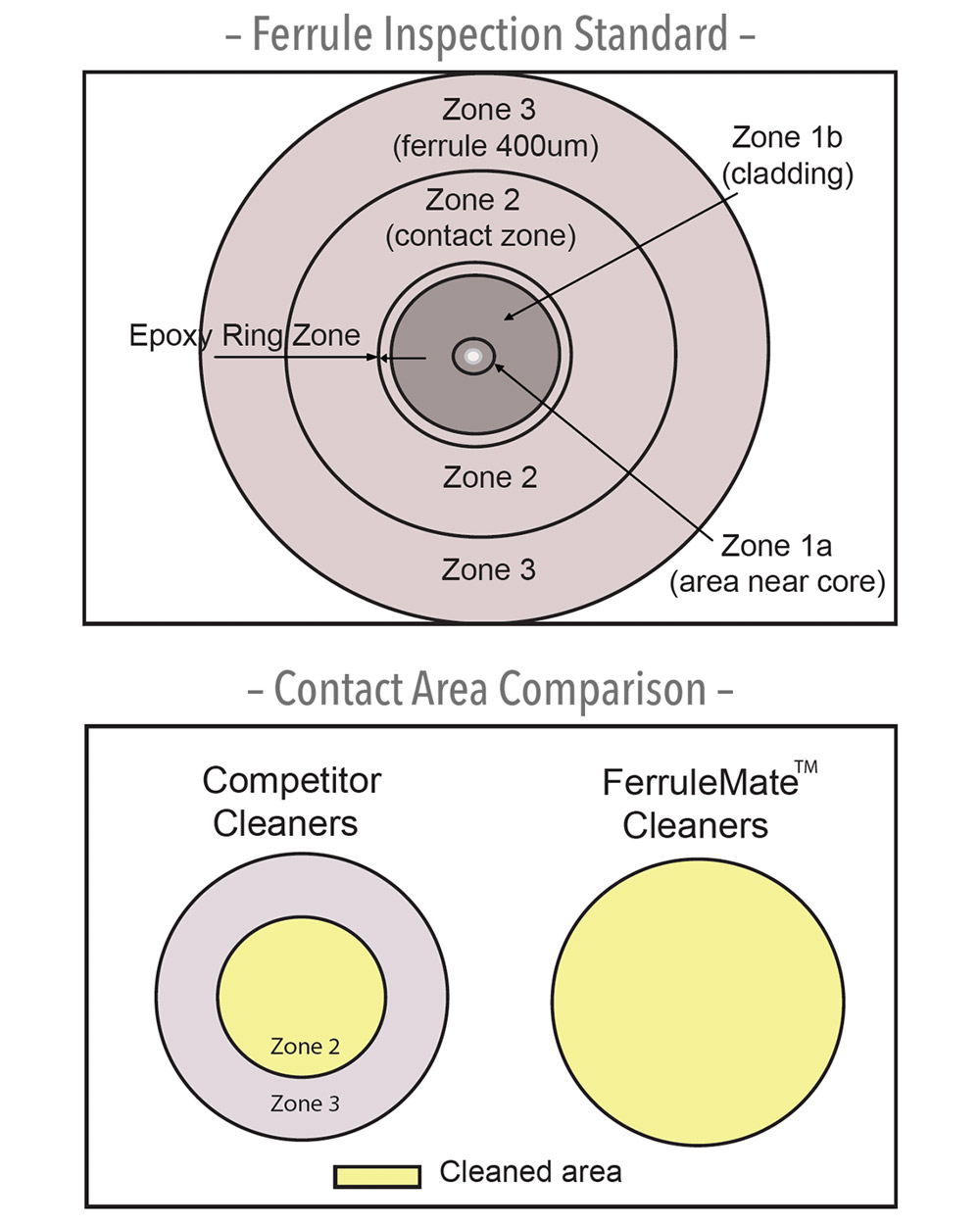 TELONIX stands behind every product sold, with unmatched technical support.