In 1975, Eagle Comtronics introduced the CATV industry's first cylindrical Pay TV trap. Today, they operate the largest trap manufacturing facility in the world, with added ability to produce custom filters to meet special requirements.
A large staff of engineers and technicians develops their new products for the field. Their design group uses the latest in simulation, computer aided design, test & measurement techniques and equipment. Rigorous environmental testing assures you that their filters will withstand years of extreme exposure.
Eagle's next-generation designs for high pass filters and MoCA filters continue to provide unique solutions in support of your efficiencies to address consumer needs.
Eagle Comtronics Products
Review the Eagle Comtronics line of products on their web site and contact us for availability and questions.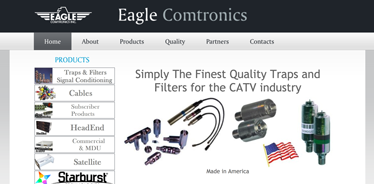 TELONIX stands behind every product sold, with unmatched technical support.