Dielectric Technologies supplies dehydrators for use in telecommunications, military applications, shipboard environments, and numerous other special purpose designs, including twin tower industrial DRY-PAK™ dryers designed as point-of-use dryers for industrial applications. Other applications include pressurization of coaxial and waveguide broadcast and microwave systems.
The range of products for cable pressurization include a complete line of heatless air dryers with capacities to 30,000 SCFD, central office manifolds and distribution manifolds. In addition, supplying rack / panel systems using world class panels and the 800 or the 55X Series flow tranducers, fully assembled to customer specifications and ready-to-install.
Air Dryers and Automatic Transfer Systems
Dielectric Technologies offers air dryers in a wide range of capacities and types to fit your specific needs. Small capacity dryers are available in both high pressure (2-15 psig outlet pressures) and low pressure (.1-2 psig outlet pressures). Small and medium capacity dryers use the oil less/piston type compressors. High capacity dryers use the Dielectric water-sealed rotary compressor. Output capacities range from 200 SCFD to 33,000 SCFD (122,000 SCFD for Emergency Air Dryer). Dryers are available for cable or wave-guide applications.

Dielectric's Emergency Industrial Twin Tower Heatless Air Dryer is designed for Point of Use application where dry air is required.
This moderate-flow, standalone Dry Pak employs two desiccant towers which cycle alternately through drying and regeneration modes by pneumatic timer components and utilize normally closed pneumatic valves to ensure system integrity.
This unique design gives a minimal pressure drop through the dryer for greater efficiency. Utilizing a heavy duty case with wheels makes this easy to move around and place in position near a portable compressor air source.
Supplied with a humidity test meter to measure the outlet dew point. Also included are 50' of ¾" rubber reinforced high-pressure hose with ¾" universal airline coupling for connecting to the mobile air compressor's outlet and emergency dryer's inlet and ¾" quick connects.
Central-Office Panels and Manifolds
Dielectric manufacturers distribution panels for air pipe support systems and for direct cable connection. Pressure-transducers monitor inlet pressures and either totalizing or separate flow transducers are available to read separate cable flows.
Dielectric's Central Office Rack and Panel Systems allow you to design your own Central Office Pressurization System to meet the specific requirements of your location. Each Rack System allows for maximum air distribution via an extruded aluminum vertical manifold with direct air feed to each panel. As system requirements change, modular-style panels can be added, rearranged, or removed with minimal effort.
All panels can be equipped with Mark Flow Transducers, which represent the state-of-the-art for monitoring air flow. The non-powered Mark 550 Series Flow Transducers utilize a thick film resistor array to provide a highly accurate 40-step range.
Outside-Plant Transducers, Manifolds and Junction Boxes
The 500 series flow transducers are the standard for remote monitoring of cable pressurization systems in the telecom industry. With a continuous resistance output these devices can be mounted in underground locations as well as in conjunction with central office panel installations.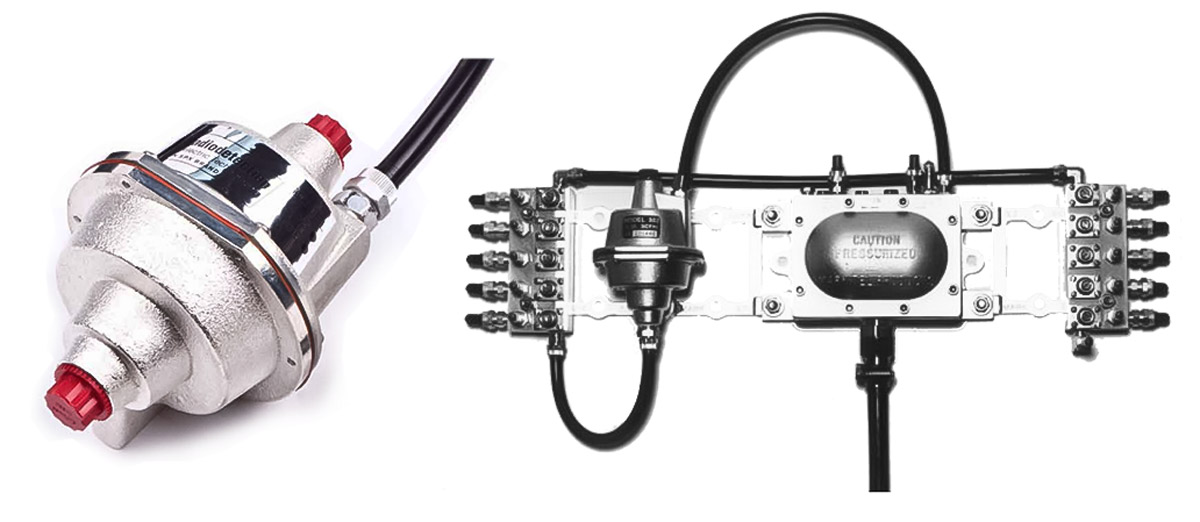 TELONIX stands behind every product sold, with unmatched technical support.